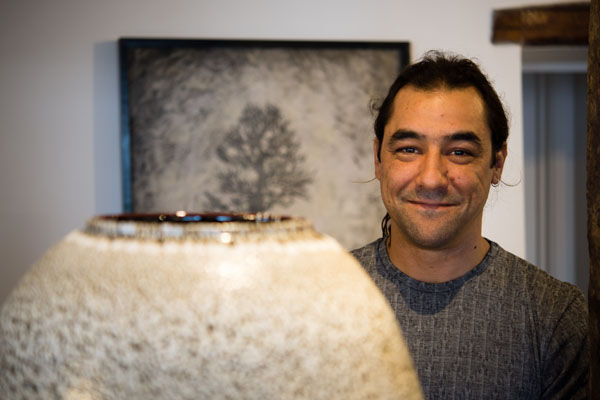 Albert principally makes large porcelain jars decorated with his beautiful oriental glazes
View the work of Albert Montserrat
Born in Spain, Albert is currently based in North Yorkshire.
He graduated in Product Design in Barcelona and started studying as a Ceramicist at Massana, Barcelona and Escola de Ceràmica de la Bisbal, Girona.
In 2007 he set up his first studio as a partnership in Barcelona before moving the studio to Mexico where he prepared his own clays and glazes as well as improved his gas firing techniques. In 2013 he set up a studio in the UK, mainly throwing vases on the potter's wheel with a special interest in large work and in the research and development of oriental glazes.
Albert works with porcelain fired to 1300ºC. He uses porcelain for Its strength, finish, fluidity and whiteness as well as its connotations of quality.
Clear and classic pots are thrown on the wheel with no decoration apart from his glazes which give them the strength and personality he is looking for.
Albert is interested in Oriental Glazes and more specifically in the "Oil Spot" type of glazes. He is constantly searching for new finishes and colours. These "Oil Spot Glazes" are very challenging and extraordinary beautiful, a type of "Tenmoku" glaze originally developed in China during the Song Dynasty (960-1279). "Yuteki" or "Oil Spot", is an effect that occurs when there is an overload of iron oxide which is allowed to heat up slowly and forms effulgent spots on the surface.
Group Exhibitions:
2017 "The Dark Side of the Moon", Hexagon Classic Design, London, UK
2017 "Porcelain Perfection", Bils & Rye, Kirkbymoorside, UK
2017 Art in Clay, Hatfield, UK
2017 "A Whiter Shade of Pale", Hexagon Classic Design, London, UK
2017 The Round House Gallery, Derbyshire, UK
2017 Miar Arts, Brighton, UK
2017 Cut The Mustard Gallery, Langholm, Scotland
2017 Potfest in the Park, Cumbria, UK
2017 Pots & Plants, Powys, Wales
2016 Cambridge Art Fair with Bils & Rye Gallery, Cambridge, UK
2016 Ceramics in the City, London, UK
2016 Bath Contemporary , Bath, UK
2016 Sculpt Gallery "Summer Exhibition 2016", Colchester, UK2016 Art in Clay, Hatfield, UK
2016 Bentalls Kingston "Meet the Artisans", London, UK
2015 Harrogate International Visual Arts Expo 2015 with Bils & Rye Gallery, Harrogate, UK
2015 Sculpt Gallery "The Art of Firing", Colchester, UK
2015 The Loughborough Hotel Gallery, London, UK
2015 Morley Gallery, London, UK
2015 Ceramics in the City, London, UK
2015 Art in Clay, Hatfield, UK
2015 RBSA Gallery 'Prize Exhibition', Birmingham, UK
2015 RBSA Gallery, Birmingham, UK
2015 Erwood Station Gallery, Powys, Wales
2014 Mall Galleries, London, UK
2014 Morley Gallery, London, UK
2014 Royal West of England Academy, Bristol, UK
2014 Landmark Arts Centre, Teddington, Middlesex, UK
2014 Riverside Gallery, Richmond, London, UK
2014 The Spring Gallery, Hampshire, UK
2013 National Funeral Exhibition 2013, Stoneleigh, Birmingham, UK
2011 IDEFT Institute, Guadalajara, Mexico
2010 México Nacional Ceramic Competition, Guadalajara, Mexico
2009 Bbrownie Coffee Gallery, Guadalajara, Mexico
2008 ADI-FAD, Barcelona, Spain
2008 Roques Blanques Cemetery, Barcelona, Spain
2007 Funermostra, València, Spain
Awards:
2018 First Prize at the 19th edition of the Ceramics Biennial "Angelina Alós" in Esplugues, Barcelona
2015 & 2014 London Potters Annual Exhibition First Prize "Best in Show"
2014 London Potters Annual Exhibition Visitor's Vote
Publications:
House & Garden, "Inspirational Interiors", July 2017, p. 149
Eskdale & Liddesdale Advertiser, March 2017
Photographic report "In the studio¨ by Ben Boswell, 2017
Ceramic Review, Issue 280, July/August 2016
Wladimir Vivas, "Panorama de Actualidad", Revista Internacional Ceramica, vol.114, 2009, p. 66
Wladimir Vivas, "Breves", Revista Internacional Ceramica, vol.112, 2009, p. 81
Commissions / Public Work:
2018 The Can Tinturé Museum, in Esplugues de Llobregat, Barcelona
2017 Public Collection, Hutton-in-the-Forest, Cumbria, UK
2013 Reliquaries, Marcs i Urnes Bach, Barcelona, Spain
2010 Trophies, Universidad Autónoma de Guadalajara, Mexico
2008 Public Sculpture in Government Building, Josep Carreté Arquitectura, Tarragona, Spain
View the work of Albert Montserrat