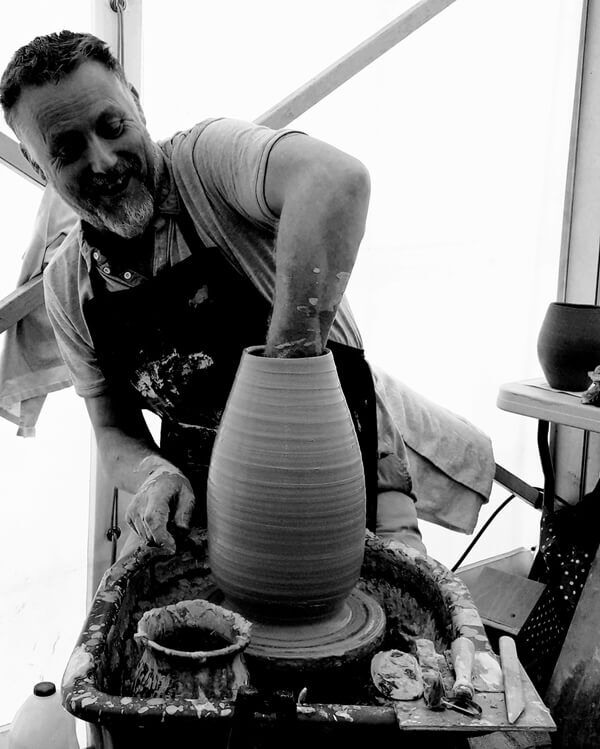 A potter with 35 years experience of making pots exhibiting throughout the UK. Richard's pots can be found within many private collections, including the Rothschild collection
View the work of Andrew Richards
"My work has evolved and matured over the years and has followed many different styles and techniques, but the process of making has remained the same. I always aim for the highest standards, and create original, honest, and intuitive work that has been informed by historical and hard won practical experience as a production thrower.
I have always followed an individual and experimental approach to clay, as a potter and as a teacher. The creative thirst for knowledge and passion for my vocation is clearly demonstrated in the work that I have produced over the years."
Formal training included Wrexham College of Art, Chesterfield College of Art and Cardiff where he was taught by the likes of David Binns, Willie Carter, Geoffrey Fuller, Janet Leach, Patrick Seargent, Trevor Nicklen, Chris Yenson, Geoff Swindell, and Pete Starkey.
"Their influences enabled me to experiment with kiln building and glaze technology. This approach to ceramics has remained the core of my practice as a teacher and a maker.
I approach the making of my vessels with energy and immediacy, working on the form and its surfaces during the process of making and drying. My application of slips and oxides alter the surface and the layering of materials added to the vessel emphasises the plasticity and surface qualities of the clay whilst achieving the finish of a landscape.
I seek to push the boundaries of the pot/clay. A pot can become an abstract object in the art ceramic sculptural world. My method begins with thrown or hand-built clay forms; I use the wheel to shape the exterior surface and, whilst I may have an idea and an understanding of the shape, it is through careful manipulation, alterations of the surface with clastic sedimentary stones and oxides that the exterior appearance of the vessel is derived. My 'Textures from the Earth' series of work reflects the landscape of the Welsh mountains and coastline.
The layering of 200 million year old clastic sedimentary stones, beach quartz, granite, brushed layered Anglesey copper and glazes adds colour and textural effects that are harmonious to each piece, making each vessel unique and individual. I continually collect rocks and sedimentary stones from different parts of the UK and these will be incorporated into the vessels, making them distinctive and site specific for that area of the UK.
View the work of Andrew Richards