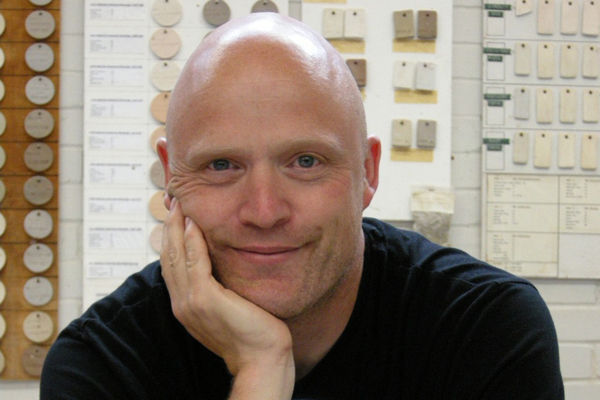 Background
Ashley Howard produces porcelain and stoneware vessels informed by a dialogue between Far-Eastern and homespun pottery traditions. The work draws on his interest in ritual vessels, the spaces they occupy and the ceremonies that surround them. Notions of reverence and transience are also explored in this work.
'The work of Ashley Howard remains extraordinarily fresh. He is an assured but rigorous explorer and celebrant of the past, clearly indebted to a variety of ceramics traditions, but he has been able to absorb these ideas into a very modern, resourceful and uncommonly free language of his own'. David Whiting.
Asley is a Fellow of Craft Potters Association, Trustee of the Farnham Pottery Trust and a Brother of the Art Workers Guild.
View the work of Ashley Howard
Exhibitions:
Solo Exhibitions:
2009 Ritual and Setting, Winchester Cathedral
2008 Showcase, Contemporary Ceramics, London
2000 One Two Five Gallery, Bath
1999 Lynn Strover Gallery, Cambridge
1998 Galerie Van Meensel, Belgium
1996 Nijmegen Museum, Netherlands
2/3 Person Exhibitions include:
2007 Bettles Gallery
2004 – 2005 Full Circle, & Martin Lungley, international touring exhibition Brown, 2004-2005 Bickers & Howard, The Tunnel Gallery, Tonbridge School
2003 Thomas Corman Arts, Cork Street
2003 Brown, Bickers & Howard, Urban Interiors, London
1997 & John Pollex, Bettles Gallery
Group Exhibitions include:
2009 Beyond Tradition, Bevere Gallery, Stroud
2008 Pothrminster Gallery, Cornwall
Ceramics In The Round, Buxton, Derbyshire
Jugs and bowls, Bettles Gallery
Ceramic Art London, RCA
Leach Pottery Restoration, Bonhams
Craft2EU Gallery, Hamburg, Germany
2007 ISCAEE, James Hockey Gallery, UCCA, Farnham
Ceramic Art London, RCA
2006 ISCAEE, Tsinghua University, Beijing
Ceramic Art London, RCA
Traditional Yet Contemporary: Modern Korean Ceramics (guest exhibitor) Air Gallery
2005 Table Manners, Crafts Council touring exhibition
Functional Form Now, Galerie Besson
Keramuse, Netherlands
Ceramic Art London, RCA
Chawan International, Belgium
Surfacing Now, The Tunnel Gallery, Tonbridge School
2004 Ceramic Art London, RCA
Feast Your Eyes, Crafts Council, V&A
One Year On, Crafts Council at New Designers
2002 British Ceramics, France, touring exhibition
2001 Ceramic Contemporaries 4, touring exhibition
2000 NYAD2000, New York
1996 Keramuse, Netherlands 1994
Craft potters Association, V&A
Awards:
2002 Shortlist, Twyfords Bathtime Project, Royal College of Art
1997 Peers Award, Art in Clay, Hatfield House
1995 Peers Award, Milsbeek, Netherlands
Publications:
Contemporary Ceramics by Emmanuel Cooper, Thames & Hudson, 2009
In Tune With Colour, Ceramics Monthly, Helen Bevis, December issue , 2008
Studio Pottery in Britain 1900 -2005 by Jeffrey Jones, A&C Black, 2007
The Beauty of Imperfection, Bonnie Kempske, Ceramic Review, 225 May/June , 2007
Full Circle: David Briers, Crafts magazine 198 , 2006
Functional Form Now, preview, Daily Telegraph, February 7th , 2005
Full Circle, catalogue, by Alison Britton and Dead Ends and Possibilities, Alison Britton, Ceramic Review 210, November/December , 2004
Altered States, Ceramic Review, 205 January/February , 2004
Make Tracks To…, Daily Telegraph, May 31st , 2003
Homes and Property, Corrine Julius, London Evening Standard, May 28th , 2003
The Glaze Book by Stephen Murfitt, Thames & Hudson, 2002
Ceramic Decoration, Jo Connell , 2002
Stoneware by Richard Dewar, A&C Black, 2002
Searching & Finding: Kyra Cane, Ceramic Review, 187 January/February , 2001
Matt Glazes, Ashley Howard, Ceramic Review, 186 November/ December , 2000
The Complete Practical Potter by Josie Warshaw, Lorenz Books, 1999
Strong Form Vibrant Colour, David Whiting, Ceramic Review, 166 July/August, 1997
View the work of Ashley Howard