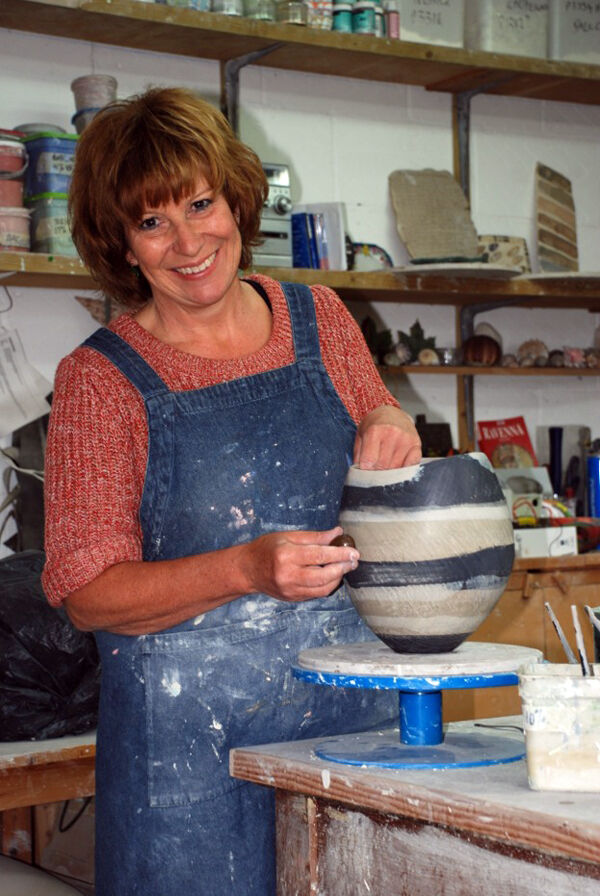 View the work of Carolyn Genders
Artists Statement:
From the moment I started to work in clay it came instinctively to me to use colour and brush marks on my work; a single glaze, however beautiful the surface finish, was never going to be enough.
Discovering vitreous slips many years ago, gave me a material with the surface quality that I had searched for; a way of creating surfaces, vibrant or subtle without the use of a glaze. Employing burnished slips as an alternative surface adds another dimension, creating a different mood. Early vessels were purely vehicles for decoration, but now I am more interested in creating pieces that have harmony of form and surface.
Landscape in its loosest interpretation continues to be the inspiration for my new series of work: I had never lived with a view before moving to my current studio where to the north is a patchwork of woods and fields and the vastness of the Ashdown Forest and the Sussex Downs gently roll to the south. It's a varied landscape that has influenced me greatly and not only visually. From my studio I observe the changing of the seasons and the rhythm of the year. As coiling is all about rhythm, I feel attuned to this natural beat. My cottage garden is also very important to me and this smaller scale more intimate landscape, where the play of light and shadow across plants suggests ever-changing abstract and sculptural compositions, often provokes a fresh theme or series of work.
Another important source of inspiration comes from my appreciation of paintings, often by British Artists from the 1930s, 40s and 50s. I feel a special affinity with the painters of this period – their peculiar application of paint and use of brushwork.
My sketches, from direct observation, in black and white in a small sketchbook, are not literal, rather a noting of atmosphere, mood, rhythm and texture. These marks and gestures on paper are the starting point for studio work where I work intuitively relying on visual memory for colour whilst bringing together my interest in the physicality of working with clay and my passion for painting.
Each piece I make is an interpretation of the world around me, abstracted images weaving around a fluid form to create a three dimensional painting in clay with luminous coloured burnished or vitreous slip.
Carolyn is a Fellow of the Craft Potters Association, a member of Contemporary Applied Arts and a member of the International Academy of Ceramics. She is the author of 'Sources of Inspiration' (A&C Black) 2001 & 'Pattern, Colour & Form' (A&C Black) 2009.
Exhibitions:
2021 - Online Exhibition - Colour Burst - Recent Ceramics & Relief Prints
2020 - Clay with a Capital K - Keramiekcentrum Tiendschuur Tegelen
- Atelier Munsteiner Biennial Studio Exhibition - Stipshuasen, Germany
2019 - East Meets West, Yixing, China
- 25th Anniversary Show - Galerie Terra-viva, St Quentin-la-Poterie, France
- Celebrating Ceramics - Ceramics At Waterperry Gardens, nr Oxford
- Solo Show - Sentience - Contemporary Ceramics Centre
2018 - Christmas show at Leeds City Art & Craft Gallery, The Headrow, Leeds
- Christmas Show - St Anne's Gallery, Lewes, East Sussex
- Present & Collect. Contemporary Applied Arts, London,
- Spring Exhibition - Lund Gallery, Easingwold, Yorkshire
- Ceramic Art London,
- Summer Show - The Garden Gallery, Broughton, Hampshire
- 'Makers Lunch' - The Gallery at Bevere
2017 - The Sculpture Garden. The Odney Club, Odney. Cookham
2016 - Galerie Terra Viva, St. Quentin la Poterie, France
2015 - Maureen Michaelson Gallery 'Hidden Garden Art Show
- 'Maureen Michaelson Gallery at Grow'
- 59th Premio Faenza – International Competition of Contemporary Ceramic Art
- 'Truth to Material' Garden Gallery, Broughton, Hampshire
- International Ceramics Biennial(ICB) Haacht, Belgium
2014 - Christmas Open House, MIAR Ceramics & Arts
- All I want for Christmas, The Craft Centre & Design Gallery, Leeds
- Vivace-Art, Gravelly Barn, Braughing, Hertfordshire
- Contemporary Colours Exhibition, Smallhythe Gallery, Tenterden, Kent
2013 - Greenwood Arts Centre South Carolina, USA
- Hannah Peschar Summer exhibition, Surrey
2012 - Carolyn Genders: Solo Exhibition Works 2005-2012 Fleming Gallery, TASIS, Thorpe Surrey
2011 - 9th International Ceramics Competition – Mino, Japan
- 7th Internationale Biennale of Ceramics, 'Inside Out' – Kapfenberg, Austria
2009 - Pattern, Colour and Form – Gallery at Bevere, Worcestershire
- Ceramics for Europe – Westerwald, Germany
- Craft Potters Association Collection, Ashgate Gallery, Surrey
2008 - St Joseph Galeiie, Leeuwarclen The Netherlands
2007 - Solo exhibition – Candover Gallery, Alresford, Hampshire
2005 - Carlin Gallery, Paris, France
- Solo exhibition – Grapevine Gallery, Norwich
2004 - 'Coup de bols' – Gallery Traces, Hastiere, Belgium
2003 - Diversity' – Works of National Potters, Mid-Cornwall Galleries, St Blazey Gate, Nr St. Austell, Par, Cornwall
2002 - XVII Biennale International de Ceramique d'Art de Vallauris, France
- 4th Sarreguemines International Ceramic Competition
- 'Coupes et Bols', Galerie Carlin, Paris
2001 - 'Refined Earth' – Solo Show, Bedales Gallery, Petersfield, Hampshire
2000 - 10th Anniversary Exhibition, Keramiek Galerie Groot Welsden, The Netherlands
- Galerie Texel, The Netherlands
1999 - Internationale Biennale of Ceramic Art, Brussels
- Solo Show, Eton Applied Arts, Eton, Windsor
1998 - Solo Showcase, Hove Museum, Sussex
1997 - Internationale Biennale Of Ceramic Art, Brussels
- 'Messing with Mud', C.P.A. Show, Plymouth Arts centre
1996 - Solo Show, Galerie Lot Duynstee, Maastricht, The Netherlands
- Bothy Gallery, Yorkshire Sculpture Park
- Galerie Hilde Holstein, Bremen, Germany
1995 - C.P.A. Show, New Ashgate Gallery, Farnham, Surrey
- Contemporary Ceramics Show, Victoria & Albert Museum, London
1994 - Solo Show, Galerie Altstadt, Weinheim, Germany
1993 - Galerie Babel, Landsmeer, The Netherlands
- Solo Show, Barbican Showcase, London
- Made in Britain, Galerie Groot Welsden
Awards:
2016 Selected Maker Award – silver Craft & Design Magazine
2002 Major Award Arts Council, UK
2001 Craft Pottery Charitable Trust
2001 South East Arts
1994 South East Arts
1989 David Canter
Competitions:
2019 Selected Artist GICB, Korea
2019 Westerwald Prize, Germany
2015 59th Premio Faenza, Italy
2014 13th Westerwald Prize, Germany
2014 XXIII International Biennale of Vallauris, France
2012 Honourable Mention,Ceramics Multiplex, Varazdin, Croatia
2011 Honourable Mention, 9th InternationalCeramics Competition, Mono, Japan
2011 Acquisition Award, 7th Internationale Keramik Biennale, Kapfenberg, Austria
2009 Keramik Europas 12. Westerwald Preis.
2002 XV111 Biennale Vallauris
2002 4th Sarreguemines International ceramic competition
2001 Internationale Biennale of Ceramic Art, Brussels
1985 Cevider, Valencia, Spain
1984 Cevider, Valencia, Spain
1982 Concorso Internationale, Faenza, Italy
Public Collections:
Fitzwilliam Museum, Cambridge
Gladstone Museum, Stoke on Trent
Brighton & Hove Museum,
Adolf Egner Collection,
Cologne Museum
Robert Pinchen Collection, Leeds Museum
Fine Arts Society, Glasgow
Museum of Modern Ceramic Art, Gifu, Japan
Varazdin Museum, Croatia

Publications:
Pattern, Colour & Form, Carolyn Genders (A&C Black)
Sources of Inspiration, Carolyn Genders (A&C Black)
Surface Decoration for Low Fired Ceramics, Lynn Peters (Lark Books)
The Potters Dictionary of Materials & Techniques, Frank & Janet Hammer (A&C Black)
Resist & Making Techniques, Peter Beard (A/&C Black)
Coiled Pottery, Betty Blandino (A&C Black)
Het Atelier, Luk Versluys & Lucien Tinck
Hand built Ceramics, Kathy Triplett (Lark Books)
British Studio Potters, Marks Yates-Owen & Fournier (A&C)
The Art of Hand built Ceramics, Susan Bruce (Crowood Press)
The Potters Guide to Ceramic Surfaces, Jo Connell (Apple Press)
500 Bowls, (Lark Books)
Ceramics: Tools & Techniques for the
Contemporary Maker, Louisa Taylor (Rotovision/Chronicle
View the work of Carolyn Genders