Born 1947 David is a leading raku ceramicist with an international reputation
View the work of David Roberts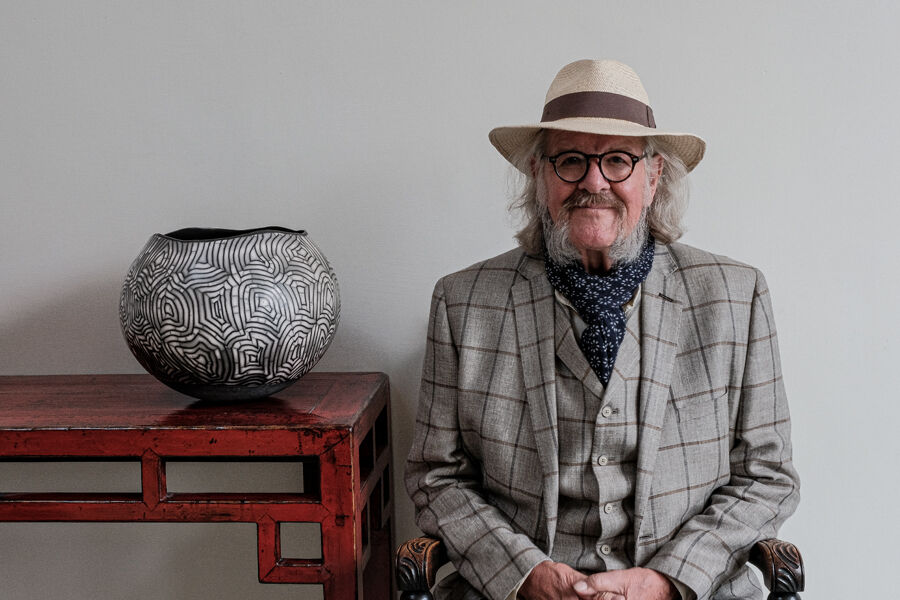 David Roberts was introduced to ceramics during degree studies at Bretton Hall College in 1966. Afterwards he taught full time art in secondary schools. Increasingly concerned with making pots, initially in stoneware and then changed to Raku in the late seventies. In 1981 David ceased full time teaching to concentrate on making pots.
1984 - Elected council member of Craft Potters Association.
1985-88 - Chair of Craft Potters Association.
1986 - Invited onto Crafts Council Selected index.
1993 - Member of Crafts Council Setting up Grants Committee.
1994 - Selected as Full Exhibiting Member of Contemporary Applied Arts, London.
2000 - Elected as member of The International Academy of Ceramics
2020 - Awarded an Honorary Fellowship by the Craft Potters Association of Great Britain
David has had numerous solo exhibitions both in the UK and internationally.
Publications:
1984 Coiled Pottery, Betty Blandino, A&C Black Ltd. London.
1985 Collectors History Of English Pottery, Griselda Lewis, Antique Collectors Club.
1988 Ceramic Form, Peter Lane, W. Collins & Son, London.
1990 Raku, Ian Byers, B T Batsford, London.
1991 Raku Pottery, Robert Pipenburgh, Pebble Press, USA.
1994 Raku, A Review Of Contemporary Work, Tim Andrews, A&C Black Ltd. London.
1995 Smoke Fired Pottery, Jane Perryman, A&C Black Ltd. London.
1996 The Spirit of Clay, Robert Pipenburgh, Pebble Press, USA.
2000 Raku - Investigations Into Fire, David Jones, Crowood Press.
2004 Naked Clay, Jane Perryman, A&C Black Ltd., London.
World Famous Ceramic Studios, Vol. 1 Europe, Bai Ming, Heibi Fine Arts Publishing House, China.
2005 Raku, Second Edition, Tim Andrews, A&C Black, London.
2009 Spirit of Ceramic Design, Robert Pipenburg, Pebble Press, Ann Arbor, USA.
2011 Catalogue entitled 'Weeping Landscapes' published by Lemon St. Gallery, Truro, Cornwall, to accompany a one person exhibition of the same name.
2014 Catalogue entitled, 'Landscapes & Artefacts - Memories & Inventions' published by Lemon St. Gallery, Truro, Cornwall, to accompany a one person exhibition of the same name.
2017 Catalogue entitled "Divergence - Convergence - In Response to Landscape." published by Lemon Street Gallery, Truro, Cornwall, to accompany a two person exhibition of the
same name.
2000 a monograph on the work of David Roberts entitled Painting With Smoke, written by Lynne Green, published by Smith Settle, Otley, Yorkshire, England. Extended second edition published in 2009
1987 Ceramic Review (no. 105), 'David Roberts' by Stephen Brayne.
Catalogue for solo exhibition at Aberystwyth Arts Centre, by Emmanuel Cooper.
1990 Catalogue for solo exhibition at Leeds Craft & Design Centre by Tony Birks.
Ceramics Monthly (November) Article by Tony Birks.
1992 Ceramic Review (no. 137) article written by W.A. Ismay
1995 Ceramics, Art & Perception (no. 20) article by Jane Hamlyn.
Ceramic Review (no. 154) review of solo exhibition at Beaux Arts, Bath by Felicity Aylieff.
2000 Kerameiki Techni (no. 36), David Roberts 'Painting with Smoke' article by Lynne Green
2001 Crafts Magazine (no.169) 'Painting with Smoke' review of travelling exhibition at Huddersfield Art Gallery by David Briars.
2002 La Revue de la Ceramique et du Verre (no. 122) David Roberts, Le Peintre de la Fumee, article by Sylvie Girard.
2014 Ceramic Review (no. 268) Review by Dr. Fiona Hackney of exhibition
Public Collections incl. :
Aberdeen City Art Gallery, Scotland
Aberystwyth Arts Centre Collection
University College of Wales, Aberystwyth, Wales
Birmingham City Art Gallery
Bolton Art Gallery
Cleveland Craft Centre
Collection of the Duke & Duchess of Devonshire, Chatsworth house, Derbyshire
Fitzwilliam Museum, Cambridge
Huddersfield Art Gallery
Leeds School Art Loan Services;
Lotherton Hall, Leeds
Museum of Wales, Cardiff
Piece Hall Gallery, Halifax
Royal Scottish Museum, Edinburgh
Stoke-on-Trent Art Gallery & Museum
Townley Hall Art Gallery, Burnley
Ulster Museum, Belfast
V&A Museum, London
Wakefield City Art Galleries & Museums
Yorkshire Museum Services
Benaki Museum, Athens, Greece
City of Geneva Collection, Switzerland
Deruta Museum, Italy
IAC Collection, Musee Ariana, Geneva, Switzerland
World Ceramics Centre, Icheon, Korea
National Collection Of Ceramics, Kecskemet, Hungary
View the work of David Roberts