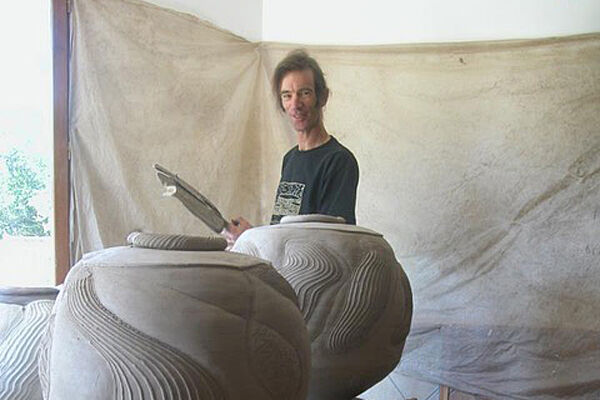 Born 1960 in Ridderkerk, Netherlands Georges made his first pots in his mother's studio. He is a leading French potter with a very unconventional style of making pots that with mutlple layers of slips are both strong and distinctly identifiable as by Georges.
View the work of Georges Sybesma
Georges sees himself fundamentally as a potter, but above all an 'artist-potter'. His most beautiful pieces are decorated with bands in moving reliefs, closely surrounded by smooth surfaces.
He is a master thrower of large stoneware pots which he paints with slips, combs and cuts. Influences include: Claude Varlan, Anne Kjaersgaard, old thrown salt cellars of Saint-Armande or Beauvaisis, any pottery generally of the people, Chinese Song Dynasty ceramics, Brigitte Pénicaud, Asgar Jorn of the Belgian Cobra Movement and his expressionist friends such as Karel Appel and Bram Bogart who tried everything and Lucio Fontana
His work has been featured in numerous publications.
Solo Exhibitions include:
1988 Le Lavoir, Clamart, France
1989 Kunst & Keramiek Gallery, Deventer, Netherlands, Holland
1996 Factory Chardon, Malicorne, France
The Arama Gallery, Erquy, France
The Don Gallery, Montsalvy, France
1997 The Esteve Gallery, Lyon, France
The Loes & Reinier Gallery, Diverter, Netherlands, Holland
1998 Maison des Tupiniers, Lyon, France
Contemporary Ceramics Centre, La Borne, France
1999 The Geneviève Godar Gallery, Lille, France
Kunsthuis Desmet Gallery, Courtrai, Belgium
2000 The Elena Oftilles-Fourcart Gallery, Paris, France
2003 The Pierre Gallery, Paris, France
2005 Maison du Chanoine, Treigny, France
2007 Jardin des Délices, Ligueux, France
2011 Contemporary Ceramics Centre, La Borne, France
2014 Galerie Quincampoix, Paris, France
2018 Nadia B Galerie, Drome, France

Group Exhibitions include:
1989 Lorrach Max Läuger Preis Collective Exhibition, Germany
1990 Le Lavoir, Collective Exhibition on the theme 'Celebration', Clamart, France
1991 Le Lavoir, Collective Exhibition on the theme 'Jug', Clamart, France
1992 Le Lavoir, Collective Exhibition on the theme 'Oxides - Iron Blue & Copper Red', Clamart, France
Collective Exhibition & demonstration on throwing large pieces with Gilbert Serres, Bussière-Badil, France
1993 Printemps de Potiers, Bandol, France
1994 Terres Brutes, touring exhibition, Giroussens, Montauban & La Borne
1995 Maison du Chanoine, Treigny, France
Le Lavoir, Clamart, France
1996 French Contemporary Ceramics, Collective Exhibition, Villeurbanne, France
'The Vase' Collective Exhibition, Soissons, France
1997 1st Ceramic Days, Collective Exhibition, Place Saint Sulpice, Paris
Printemps de Potiers, Bandol, France
1998 2nd Ceramic Days, Collective Exhibition, Place Saint Sulpice, Paris
Bernard Palissy Museum, Collective Exhibition, Saint-Avit, France
2005 Saint-Yves Chapel, Rennes, France
Collective Exhibition & technical demonstration with Christine Fabre & Tjok Dessauvage, Printemps de Potiers, Bandol, France
2006 Terre de Feu - 40 Potiers Contemporains, Beaux-arts Museum, Brest, France
2008 ExpoLain, Collective Exhibition, Lain
11th Ceramic Days, Collective Exhibition, Place Saint Sulpice, Paris
2009 ExpoLain, Collective Exhibition, Lain, France
Le Souper de Rabelais à Jacques Prévert, Collective Exhibition, Castel Boucard, Vailly-sur-Sauldre, France
2010 ExpoLain, Collective Exhibition, Lain, France
2011 Printemps de Potiers, Bandol, France
ExpoLain, Collective Exhibition, Lain, France
2017 Le Lavoir, Collective Exhibition of four potters, Clamart, France
Viviane S. une Collection? 8 Artists Collective Exhibtiion, Saint-Aubin, Chateau-Neuf, France
2018 Viviane S, Group Exhibition, Abbaye de Tuffé, Sarthe, France

Public Collections include:
National Museum of Ceramics, Sèvres, France
Museum Bernard Palissy, Saint- Avrit, France
View the work of Georges Sybesma