A self taught potter producing highly sculptural vessels, recently returned to the UK from Austalia.
View the work of Julian King-Salter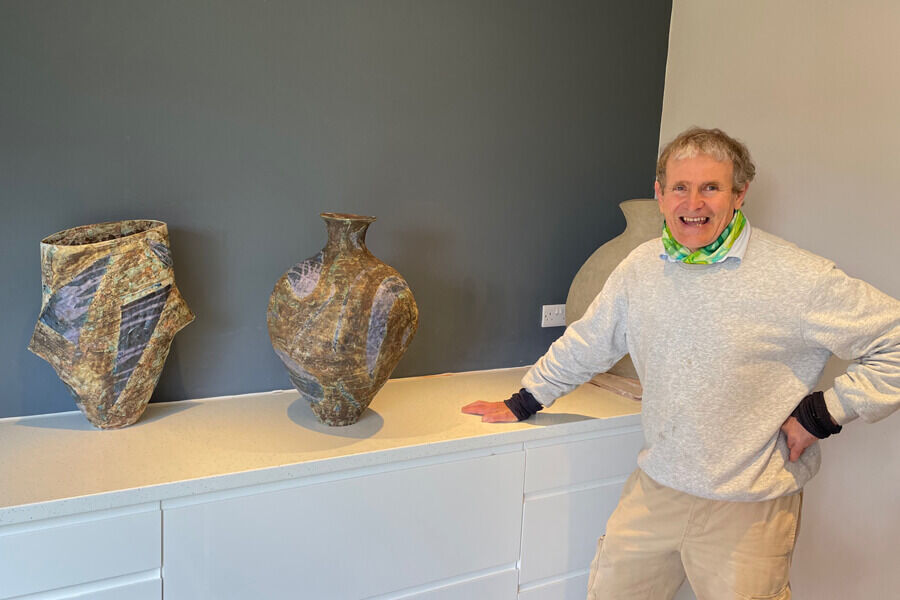 Julian is self-taught and has been potting since 1983. He moved to Australia in 2000.
Before he left he was a Fellow of the Craft Potters Association. He recently returned to the UK in 2020 and set up his pottery in Staffordshire
"Every pot begins as a pinch pot, the base refined and stamped, then flattened coils are added and pinched into the shape and thinness of the finished piece - no scraping or burnishing, the dimpled effect of finger pressure remains the surface of the pot.
Design and making are simultaneous, the form arising as it develops, subject to the limitations of the size of the kiln, and what is possible for the clay. Over the years, a vocabulary of forms and directions has evolved, and continues to evolve.
Once dry, pots are bisque fired to 1040 C. Then glazing and decorating begins: for example, the whole pot might be given a coat of a white glaze, by pouring, then decorated with oxides, and on top of that, a final coat of a reactive glaze brushed on. All glazes are to my own recipes, developed experimentally according to the colour and textural responses of different raw materials, and how these interact in layers.
The final firing is to cone 8, around 1250 C. The important thing is the 'heat work' - when the cone bends over, the right amount of heat work has been done - the temperature varies a bit according to the speed of the firing."
1992 Elected as a Professional Member of the Craft Potters Association, UK
1997 Elected a Fellow of the Craft Potters Association
Exhibitions:
1987 Amalgam, London (with John Ward and Geoffrey Eastop)
Scottish Gallery, Edinburgh (with John Maltby and Mike Scott)
Leigh Gallery, London (solo show)
Chelsea Craft Fair (with New Ashgate Gallery)
1988 Courcoux and Courcoux, Salisbury (with Bernard Charles)
Peter Dingley, Stratford, Special Summer Show (group)
1989 Royal Exchange Manchester (solo show)
Amalgam, London, Handbuilt Pots (group)
International Art Fair, Olympia, London, with Scottish Gallery
Peter Dingley, Stratford on Avon, (solo show, with paintings by Peter Markey)
1990 Beaux Arts, Bath (with paintings by Josef Herman)
Scottish Gallery, Edinburgh (solo show, with paintings by Robert Leishman RSW)
New Ashgate Gallery, Farnham, British Ceramics Today (group)
New Ashgate Gallery, Farnham (solo show, with paintings by Fiona Millais)
1991 New Ashgate gallery, Farnham, British Ceramics Today (group)
1992 Harlequin Gallery, Greenwich, London (solo show)
1994 Courcoux and Courcoux, (with John Ward)
1995 Harlequin Gallery Greenwich (solo show)
1996 Beaux Arts, Bath (solo show)
New Millennium Gallery, St Ives, Cornwall (solo show)
Alpha House Gallery, Sherborne, Summer Show (group)
Montpellier Gallery, Stratford (3 person show)
1997 CPA Gallery, London, Kaleidoscope, (group show)
1998 Beaux Arts, Bath (solo show)
1999 The Stour Gallery, Warwickshire (with John Ward)
2000 Relocated to Australia
2009 Serpentine Gallery, Lismore, NSW (group show)
2019 Best at Last - Maker's Gallery, Brisbane (group show)
2020 December - Maker's Gallery, Brisbane (in store and online, solo show)
2021 Welsh Art Week, London (online) with The Gallery Yr Oriel, Newport (group show)
Public Collections:
Buckinghamshire County Museum
The Grainer Collection, USA
Publications:
Peter Dingley's autobiography, The Gallery
Dictionary of 20th Century Studio Ceramics by Pat Carter
The Complete Practical Potter by Josie Warshaw, Bookmart, 2008
British Studio Potters' Marks, Eric Yates-Owen, Robert Fournier
CPA Potters (until 1999)
Contemporary British Studio Ceramics, Yale University Press in association with the Mint Museum of Craft & Design, 2010
Reviews in Ceramic Review and local press
View the work of Julian King-Salter