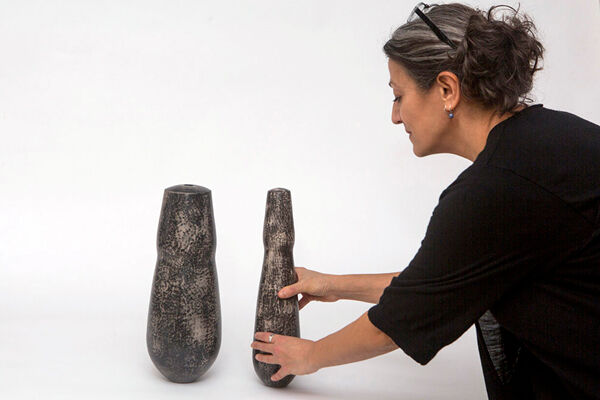 Born in Bolzano, Italy in 1968. Based and works in Venice.
View the work of Lara De Sio
Lara graduated in Architecture at IUAV, Venice. She worked as an architect in Italy and in the Netherlands and as a glass and light designer in Murano at Barovier & Toso and at Venini.
She has been working with ceramics since the end of the '80s attending ateliers and workshops in Bolzano, Venice and Tuscany. Lara has a special interest in unglazed clay, coilbuilt ceramics and naked raku.
Exhibitions:
2005 group exhibition at the "Bochaleri in Campo" in Venice.
2011 group exhibition "Manos–Self-produced Design" in Venice.
2013 selected to participate in the international exhibition "Goudsekeramiekdagen" in Gouda, the Netherlands
2013 solo exhibition at the "Kleine Galerie" of Bolzano, showing a selection of naked raku works.
2015 Metaforte-Group exhibition of Venetian craftsmen in Punta Sabbioni, Venice
2015 Ab Ovo Gallery in Todi , Italy.
In 2017 selected in the XIII International Biennial of Artistic Ceramics of Aveiro, Museum of Aveiro, Portugal.
In 2019 winner of the competition CoffeeBreak. Museum at Museo delle Ceramiche G.Gianetti Saronno including Premio Museo Carlo Zauli, Faenza,
Special Mention MiDec, Museo Internazionale DEsign Ceramico. Laveno Mombello and Special Mention Galleria Gulli, Savona.
2019 Selected in the XXVI Concorso di Ceramica Contemporanea MediTERRAneo, Grottaglie, with work 'Incrementum' exhibited in the Museo della Ceramica di Grottaglie.
2019 Christmas Exhibtiion MIAR Arts, Hove, East Sussex
2020 Forme Canoniche, exhibition at Mulino Bortoli during Portoni Aperti in Nove (IT)
Public Collections:
'Lunar' is part of the collection of contemporary ceramics of the Museum G.Gianetti di Saronna
'Dumb Set' in the collection of the Museo de Santa Joana de Aveiro
View the work of Lara De Sio