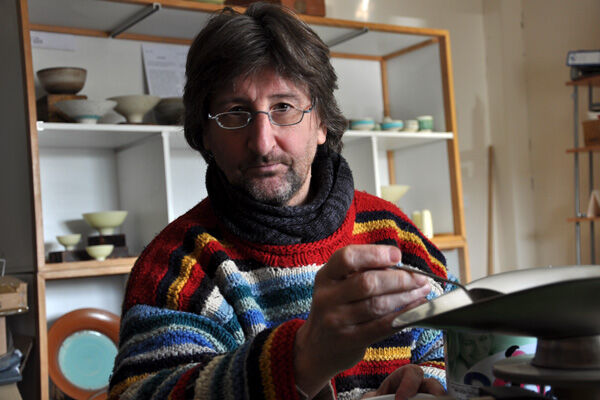 Background
Peter Wills has been a professional potter since 1989. His pottery is in Wales.
Peter works with a blend of English porcelain, producing almost exclusively one-off bowls and vases. Most work is thrown on a potter's wheel, until recently all work was raw-glazed when bone dry and once fired to 1280°C, however, currently much work is biscuit fired first. The lure of new glazes he finds irresistible and he is constantly experimenting with and developing new glaze recipes.
View the work of Peter Wills
The work of Peter Wills, has been evolving over the years within the context of attention to detail, balanced form/decoration, and passion – all of which he believes are crucial.
Influences include Bernard Leach's "A Potter's Book", Sung and Tang Dynasty Chinese pots and major 20th-century European potters such as Lucie Rie, Hans Coper and Michael Cardew. Profound and lasting early influences came from the artist-potter and early CPA member Derek Davis; and also tutor Sue Nichols.
Widely exhibited in Britain, his work has also been shown in Italy, Brussels, Spain, the Netherlands, Japan, the UAE, Germany, and the USA. Commissions have included his local Council and The Princess of Wales Hospital, Bridgend. In 1998 he was commissioned by HM Government to make bowls for them to present to the nineteen visiting European Heads of State attending a Summit in Cardiff. His pots can be found in public and private collections in Britain and around the world.
He is a member of South Wales Potters, and a Professional member of The Craft Potters Association of Great Britain.
Joint exhibitions:
2016 'Voyage'. Bath Contemporary, Bath, England
2014/15 South Wales Potters Touring Exhibition
2013 Friendship Forged in Fire: British Ceramics in America. American Museum of Ceramic Art, California
2012 Small and Precious Oxford Ceramics
2010/11 Celtic Winter Exhibition. The Stour Gallery
2008 Grassi Museum Leipzig, Germany
2006 Time Warner Manhattan, New York
Previous to 2006 numerous group exhibitions held in UK, San Francisco, Dubai & Japan.
Solo exhibitions:
2003 "In the Window" Contemporary Ceramics, London
2000 "Out of the Blue", Marazion, Cornwall
1999 "Out of the Blue", Marazion, Cornwall
1992 Plasnewydd Gallery, Maesteg
Publications:
London Evening Standard Oct. 2004
Frank & Janet Hamer's Potter's Dictionary 5th Edition 2004
Grand Designs Magazine 2004
One Wales/Arriva 2004
BBC Homes & Antiques. Jan. 2003
WM. Magazine Summer 2002
One Wales Spring 2002
Daily Mail "Weekend" magazine Oct. 2000
World of Interiors 1998
The Times June 1998
Public Collections:
National Museum of Wales, Cardiff
Newport Museum and Art Gallery
Pallant House Gallery, Chichester
The Rosenfield Collection, USA
Swansea College of Art
Swindon Museum and Art Gallery
View the work of Peter Wills