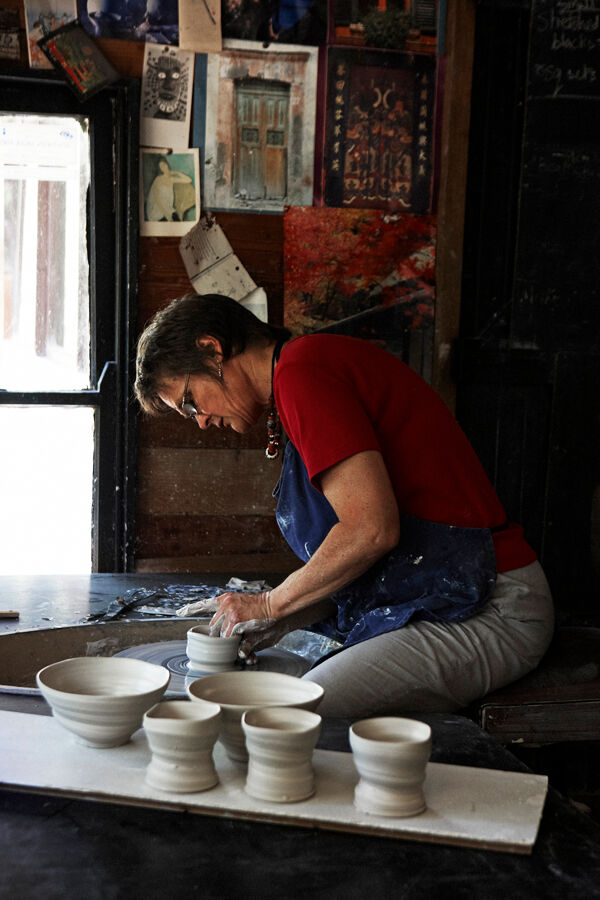 "The material qualities of clay are essential to my work. They provide a vocabulary for expressing a language of rich textures, rhythms and tactile sensation.
Dry cracked earthy stoneware slabs contrast with refined and fluid salt glazed porcelain to expresses the transience of life and delicate balance of nature. I seek to express both movement and stillness that echo the natural world, and provide a testament to the effects of time.
I work at the edge of my medium by pushing the capabilities and tolerance of clay in search of a subtle nuance or essence of expression. I am seeking to capture an elusive 'rightness' that expresses an elusive embodiment of life's energy.
All my work is wood fired and salt glazed. Most of the clays I use are made from Australian raw materials which I blend and mix myself. I also use Southern Ice and Limoges porcelain. Each clay has particular qualities which, when combined with wood firing and salt, produce varied and intriguing surfaces that are an essential part of my work."
View the work of Sandy Lockwood
Sandy was born in England of British and Argentinian parents, educated in the UK before emigrating to Australia.
She has had numerous solo and group exhibitions. She has lectured, demonstrated and held workshops internationally.
Solo Exhibitions include:
2014 A Question of Contrast, Apple House Gallery, Skaelskor, Denmark
2013 Metamorphosis, Project Space, University of Wollongong
2011 Beyond Stasis, Rex Irwin Art Dealer, Sydney
2007 Sandy Lockwood Ceramics, Loes & Reinier International Gallery, The Netherlands
2007 Sandy Lockwood – Ceramics, Gallery Tokonoma, Mudgeeraba, Qld.
2006 Lockwood – Ceramics, AHM Gallery, Sydney
2004 Grouped forms, All Hand Made Gallery, Sydney
1999 Tea, Sturt Gallery, Mittagong, N.S.W.
1998 Sandy Lockwood, James Harvey Gallery, Sydney
1997 Salt Fired Ceramics by Sandy Lockwood, Nisart Gallery, Launceston, Tasmania
1997 Sandy Lockwood – New Work, Distelfink Gallery , Melbourne, Vic
1996 Sandy Lockwood, Ceramic Art Gallery, Sydney
1995 Sandy Lockwood - Recent Work, Fusions Gallery, Brisbane
Group Exhibitions include:
2016 Quietude... remembering Peter Rushforth, Australian Wood Fired Ceramics, Skepsi, Montsalvat, Vic.
From the World IV, Galerie Hu, Nagoya, Japan.
Cuppa: A Survey of contemporary Australian handmade ceramic cups Makers Gallery, Clayfield, Qld
Korean/Australian Woodfire Exhibition, Gallery Klei
Stories of Cloth and Clay, Altenburg Gallery, Braidwood
2015 Material Evidence, Olsen Irwin Gallery, Sydney, NSW
of National Significance, Sturt Gallery, Mittagong, NSW
Collection, China Clay Gallery, Sydney, NSW
Dark Light: Black and white contemporary ceramics, Brighton, UK
Glazed Woodfired Ceramics, Skepsi Gallery, VIC
A Memory – The Jan Feder Memorial Ceramics Collection, Switchback Gallery
Turn, Turn, Turn Exhibition, National Art School, Sydney
Woodfire Masters, Strathnairn Arts Gallery, ACT
International Ceramics Festival - invited artists exhibition, Sasama, Shizuoka, Japan Messages from Clay Expo - Vichte - Belgium
17th Chawan Expo – Hemiksem - Belgium
2014 Homage, Narek Gallery Tanja, NSW
On The Edge of the Shelf, Bega Valley Regional Gallery, NSW
Presenters Exhibition, 2nd European Woodfire Conference, Skaelskor, Denmark
16th International Chawan Exposition, Singapore
Skepsi@Montsalvat – 2014, Eltham, Vic
Passing it On: Bernard Leach to Jeff Oestreich, to the Midwest and Beyond, Craft in America Center, USA
Important Exhibition of Australian Ceramics, Mossgreen Gallery, Vic
TEABOWLS: Form, Function, Expression – Oxford Ceramics Gallery
Summer Theme and Variations, Olsen Irwin Art Gallery, Sydney
Common Differences, Mansfield Ceramics Gallery, Sydney
2013 Endless Variations II: A Shino Extravaganza, Lone Star College Art Gallery, Texas
Salt & Potter – with works by 15 international Salzbrand ceramists,
Topfereimuseum, Langerwehe, Germany; Keramiekcentrum Tiendschuur Tegelen, the Netherlands
15th International Chawan Expo Exhibition Project , Taiwan
Woodfire 2013, Kerrie Lowe Gallery, Sydney
Expression of Self in Clay, Skepsi at Monsalvat, Vic.
On The Table – Still Lives, Olsen Irwin Art Gallery
2012 The Contemporary Art of Chawan – an International Invitational, Cavin-Morris Gallery, New York
28th Gold Coast International Ceramic Award 2012, Brisbane
Engaging Form - Exemplary Contemporary Ceramics, The Barn Gallery, Monsalvat, Vic.
Directors Choice, Gallery 2, The Jam Factory, Adelaide, SA
Subvert Light Square Gallery, Adelaide College for the Arts, SA
2011 Prequel to the Unexpected: New Works New Artists, Cavin-Morris Gallery, New York
Gyeonggi International Ceramix Biennale 2011, Icheon World Ceramic Centre, Korea Black & white featuring PABLO PICASSO, Rex Irwin Art Dealer, Sydney
The Teabowl, Peter Pinson Gallery, Sydney
Ewers, Pitchers, Jugs & Jars, Narek Gallery, Tanja, NSW
Woodfire - Masters of the Woodfire Art, Kerrie Lowe Gallery, Sydney
International Woodfired Tableware curator and exhibitor, Artifakt Gallery, Deloraine, Tas
Woodfire – 50 Australian Stories, Gallery 9, Deloraine, Tas
Art of Woodfire, Skepsi. Melbourne, Vic
2010 La Borne - L'Amour du Feu' – an international wood fire exhibition, Contemporary Ceramic Centre, La Borne, France
The Art of Woodfire – Ceramics for the 21st century, Front Room Gallery, Gulgong, NSW
Mayo Festival 2010, St Margaret's Art Centre, Brisbane, Qld
Melting Pot – 15 French and Australian Ceramic Artists, Manningham Gallery, Vic. Shino Redux 2010, Clay Art Center, New York, USA
2009 Two Paths- Sandy Lockwood & Neil Hoffmann, Freeland Gallery, Sydney Tablewares - an International Perspective, Rex Irwin Gallery, Sydney
On the Table Too, Planet Gallery, Sydney
Oz 5 x 5, Gallery Lacoste, Concord, MA, USA
5th World Ceramic Biennale, Icheon, Korea
Group show, Cavin – Morris Gallery, New York
Six Southern Highlands Ceramic Artists, Sturt Gallery, Mittagong
Jugs Galore, Studio Altenburg, Braidwood
A New Look – Functional Ceramics, Cudgegong Gallery, Gulgong.
Bravura – 21st Century Australian Craft, Art Gallery of South Australia
2008 Key Presenters – Sturt Woodfire 2008, Sturt Gallery, Mittagong
Australian Wood-fired Ceramics – A Survey Exhibition, Freeland Gallery, Sydney
2008 Sidney Myer Fund International Ceramics Award, Shepparton Art Gallery, Vic Tasmanian Craft Fair, Deloraine Tas.
Salute, Fusions Gallery, Brisbane, Qld
2007 The 4th World Ceramics Biennale 2007, Icheon, Korea
Raw Earth, Sabbia Gallery, Sydney
Two Friends- Sandy Lockwood & Brenda Humble, Back To Back Gallery, Newcastle Auction art Australia, Helen Maxwell Gallery, ACT
Celebration, Manly Art Gallery, Manly, NSW
Treating the Surface, La Trobe University, Bendigo Vic
2006 Salzbrand Keramik 2006, Galerie Handwerk Koblenz, Germany
2006 Sidney Myer Fund International Ceramics Award, Shepparton Art Gallery, Victoria
Mashiko International Ceramics Festival Exhibition, Hamada House, Kyohan Gallery 6, Mashiko and Bunsei University, Utsunomiya, Japan
6th International Ceramics Competition, Mashiko, Japan
Collecting Eclectic, AHM Gallery, Sydney
Encrusted, Skepsi on Swanston, Melbourne
Clay Statements, Verge National Ceramics Conference, Brisbane
The Colour of White, Sturt Gallery, Mittagong
Teabowls, Sabbia Gallery, Sydney
SOFA New York, Lacoste Gallery, USA
Gallery, Moss Vale Christmas Show, Distelfink Gallery, Melbourne.
Awards and Distinctions
2014 Brian Crowther Prize, UOW, NSW
Australia Council for the Arts Visual Arts to undertake International residency,
Conference presentation and research program
CEPS Grant UOW
RAS Grant UOW
2013 Australian Postgraduate Award for Doctorate research
2012 Veolia Mulwaree Trust Grant 2012, NSW
2011 The 6th World Ceramic Biennale 2011, Honourable Mention, Gyeonggi, Korea
2009 The 5th World Ceramic Biennale 2009, Honourable Mention, Icheon, Korea
Maude Vizard- Wholohan Art Purchase Award, Art Gallery of South Australia, SA
Janet Holmes a Court Grant , NAVA
2007 'The 4th World Ceramic Biennale 2007, Honourable Mention, Icheon, Korea
2006 Australia Council for the Arts Skills and Arts Development Grant to participate in Mashiko International Ceramics Festival and undertake research in Japan
Mashiko International Ceramics Competition, Special Judges Award, Mashiko, Japan
2005 The 3rd World Ceramic Biennale 2005, Honourable Mention, Icheon, Korea
2004 Craft-in-Site grant, Object, NSW
2002 National Association of Visual Artists Marketing Grant
1999 Gold Coast International Ceramic Art Award, Merit.
1998 Gold Coast International Ceramic Art Award, Special Merit.
1995 Australia Council VCAB Professional Development Grant
1993 National Gold Coast Ceramics Award, Commended
1992 Campbelltown City Art Gallery Ceramics Competition, Winner
1985 Australia Council Craft Board Workshop Development Grant

Public Collections:
National Gallery of Australia, ACT, Australia
Art Gallery of South Australia, SA, Australia
Museum of Modern Ceramic Art, Gifu, Japan
Sanbao China International Museum Collection, China Kasper-Hansen Collection, USA
Guldagergaard International Ceramic Research Centre Collection, Skaelskor, Denmark
Shimada City Museum, Japan
Aberystwyth Arts Centre Collection, Wales
Frederick R. Weisman Art Museum, University of Minnesota, Minneapolis, USA
Castle Museum Collection, Nottingham, UK
Museum Boijmonsvan Beuningen, (donation by Petra Verbore),Rotterdam, The Netherlands
Manly Art Gallery and Museum, NSW, Australia
Brisbane GGS Collection, QLD, Australia
Queen Victoria Art Gallery & Museum, Launceston, TAS, Australia
Campbelltown City Art Gallery, NSW, Australia
Stanthorpe Art Gallery, QLD, Australia
Jan Feder Collection, Monash University, Gippsland, VIC, Australia
Sturt Craft Centre Permanent Collection, Mittagong, NSW, Australia
Publications:
Salt Glaze Ceramics, by J. Mansfield, 1990.
Ceramic Artists and Galleries 1990
Who's Who of Visual Artists, 1995
Sandy Lockwood, 1995, ISBN 0 646 25789 7
Masters of Their Craft - Tradition and Innovation in the Contemporary Decorative Arts by Dr. Noris Ioannou Craftsman House, 1997
Wood-fired Ceramics-Contemporary Practices, by C. Minogue & R. Sanderson, 1998
Salt Glazing by Phil Rogers, 2002 A&C Black London UK
Salt-Glaze Ceramics by R. Cochrane, 2002, Crowood Press UK
Throwing Pots, by Phil Rogers, 2001/2002, UK
Pots in the Kitchen, by Josie Walter, 2002 , UK
Thrown & Altered Ceramics by A. Howard, 2001/2002, A&C Black London UK
The Teapot Book, by S. Woodhead, 2004, A & C Black, London, UK
The Art of Woodfire – a contemporary practice by Dr. O Rye, 2011, Janet Mansfield Press, Australia
2016 Curiosity – Hand – Fire – Time – Connection, New Ceramics Journal, No 1 2015 Material Evidence Yarrobil Magazine 1st Edition
The Art of Function and the Function of Art – Conversation, Jazz and Pots
Australian Ceramics Journal, Vol 54 No 1
2011 International Woodfired Tableware, author catalogue essay. Australian Ceramics Journal,
Vol 50 , No 2, pp 21-26
2007 Studio –based clay courses, author. Australian Ceramics Journal, Vol 46 No2
1991 Steve Harrison – an Exhibition Review, author. Pottery in Australia Vol 30 No 4,
View the work of Sandy Lockwood