Born in 1948, Bev's work is related directly to where she lives near the Conwy river estuary. In 2019, she won the Gold Medal for Craft and Design at the National Eisteddfod for Wales.
View the work of Beverly Bell-Hughes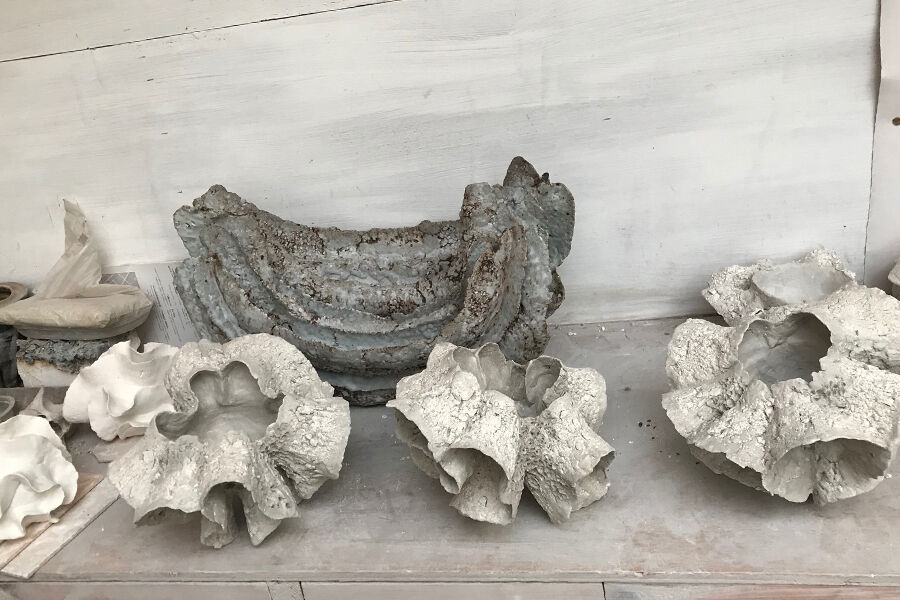 1965-67 attended Sutton & Cheam art school foundation course.
1967-69 Diploma in studio ceramics at Harrow School of Art, under Michael Casson and Victor Margrie .
During this time she met and married fellow student Terry Bell-Hughes from North Wales . She visited Wales on a regular basis for ten years. In 1978 they moved to Llandudno Junction ,between Conwy and Llandudno .
Bev is a member of the Makers Guild in Wales, a Fellow of Craft Potters Association, Chair of the North Wales Potters Association, also a trustee of Disability Arts Cymru and a Member of the Royal Cambrian Academy ,Conwy . She is also a Patron of 'Vision Support 'charity for people who are visually impaired. Her work is in various public & private collections at home and abroad.
As Bev is partially sighted, the touch and feel of clay in both its fired and un-fired forms is very important.
Artists Statement:
"When I was at art school in the late sixties I wrote my final paper thesis, on the relationship between natural forms and clay. But it is only since 1978 when I moved to Wales to live, that I have developed ideas in my work related directly to where I live.
I live between Conwy and Llandudno and have the benefit of being near to Snowdonia and the mountains. I also live near the river estuary of Conwy, and spend a great deal of time, when I have it, on Deganwy and the Morfa beach .
Each day is a journey of looking and experiencing natures change, of how mother earth presents herself to the world. Marks left in the sand by the receeding tide, sharp and clear, to deep gullies or smooth. Items thrown up by the tide, battered by storms. Different sea weed flowing in ribbons. The erosion of surfaces be they shells ,rocks, driftwood or bone. Maybe later in a half sleep subconscious, an idea will form relating to things past.
I work directly into the clay with no pre-conceived ideas of how the work will look. I work in a studio with no electricity by choice. An intuative process of making and pinching of clay.
My work is made using flattened coils of clay into which other materials are added to change the surface texture, clays and sands. The work is pushed and pinched causing crators and holes. The work is bisque fired in an electric kiln to 980degrees C and glaze fired in a gas kiln to 1300degrees C. A barium glaze is used with various oxide washes underneath to create colour. The work has a strong tactile quality, as does the natural world. I don't wish to imitate nature but aspire to echo the process. "
The Ceramics of Beverley Bell-Hughes. One touch of nature makes the whole world kin - Shakespeare, Troilus and Cressida III iii. 171. "Nature and nurture are intrinsic qualities in the ceramic forms of Beverley Bell-Hughes. Her forms are pushed and pulled, squeezed and eased into shapes reminiscent of natural objects and patterns, be they shells, seaweed, stones or the ripples left by the receding tide on a sandy beach. But it is not the references to nature which immediately spring to mind, but the great desire to touch, to handle the pieces, to explore their surface, to ferret out their corners and discern how the maker has nurtured the piece, fashioned it into her own". Emmanuel Cooper 1997. From an exhibition catalogue ,Ruthin Craft Centre.
Bev has had numerous solo and group exhibitions.
Awards:
1969 3rd prize in the Ceramic Sculpture Competition organised by the Craftsmen Potters Association.
1987 Ceramic Series - Aberystwyth Arts Centre.
1995 Arts Council of Wales Special Award for Research
1999 Prize Winner, National Eisteddfod Ynys Mon.
2007 Arts Council of Wales Special Project Grant for a new studio to facilitate the making of new work for "Ceramic Art London", at the R.C.A.
2019 Gold Medal for Craft and Design at the National Eisteddfod for Wales, Llanrwst.
Public Collections:
University of Wales, Aberystwyth
National Museum of Wales, Cardiff
York Museum bill Ismay collection
Paisley Museum, Scotland
Wessel Jager Private Collection of Ceramics
Publications:
1991 'Forming Clay' by Claude Frere-Smith and Paul Scott - Artists Newsletter North Wales Arts Association & Disability Magazine by Mary Roberts.
1992 'Talking Pots' by Moira Vincentelli, Aberystwyth Arts Centre publication, University of Wales,
1997 Ceramic Review no. 166 'A Potters Day'.
2006 Collecting Contemporary Ceramics, Ruthin Craft Centre.
2007 Seventeen Prime Makers, Aberystwyth.
2006 Collecting Contemporary Ceramics, Ruthin Craft Centre.
2007 Seventeen Prime Makers, Aberystwyth.
2017 Ceramic Review no.287, Coast And Clay - Sue Herdman
View the work of Beverly Bell-Hughes