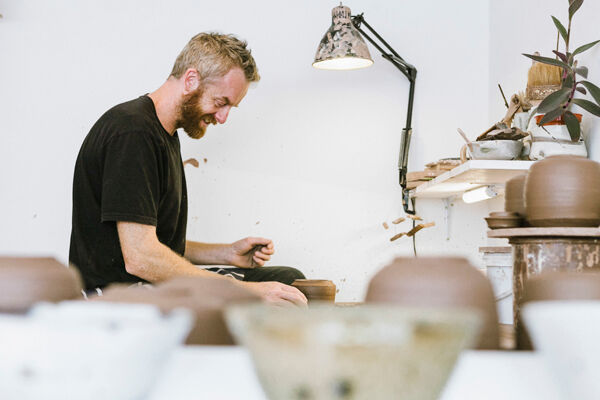 Tim Lake is a potter based in Cilycwm, Carmarthenshire, Wales, UK All work is thrown on a slow turning kick-wheel at my studio in Cilycwm, Carmarthenshire, Wales. The pots are then fired to 1300'C in a gas kiln and sometimes in an experimental gas/wood kiln.
View the work of Tim Lake
"Fluidity, fullness and lift are attributes I look to impart into my pots, always trying to bring the softness and suppleness of the material through to the end of the processes. This combined with the alchemic adventure of taking a base material and transforming it into objects of use and beauty is the satisfying goal. I collect various materials from the coastline and countryside near to where I live in Cornwall. The use of these river silts, clays and sands imparts a sense of my connection with the region that I live in. One of the main ingredients is a material which I call 'Red River silt'. I collect the silt from a river that empties out into St. Ives Bay at Godrevy. I use this material as a slip, a glaze ingredient, an 'on-glaze' pigment and a glaze in its own right. I process the silt and other local clays into liquid clay slips which are then applied by dipping or brushing onto the leather hard pots. While the slip is still fluid and wet, I use my fingers to draw through to reveal the clay body below. By doing this with vigour and immediacy, I hope to give the pieces the vitality that I strive for.
A variety of different voices inform my ceramic practice, from East to West, Korea to Marshall, Karatsu to Button. I hope that the combination of these influences and personal endeavor lead to pieces of work that have a subtle beauty that only clay can allow to happen."
View the work of Tim Lake