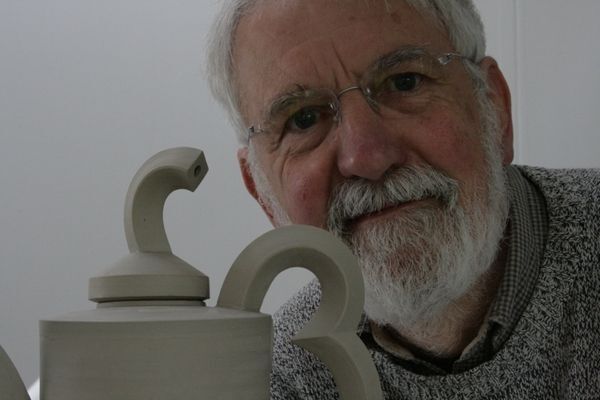 Background
The pottery tradition is at the heart of all my work. Pottery for use has been central to all settled human communities. Seldom merely functional, it has been a vehicle for expression and the fulfilment of a delight in the pleasure of handling a sensual and incredibly versatile material; the useful bound up with the intellect and the imagination.
I discovered pottery as a boy, becoming intimate with fragments of ancient pots picked up on the beaches of the Thames in London. They infiltrated my mind and my senses, giving me an insight to the syntax of thrown pottery; a sense of what is authentic, which I only fully understood as I gained experience in the craft.
So my work is informed by my passion for pots from the past, but also by making and firing, and the world and times in which I live. Sometimes I make simple useful things like mugs or jugs, on other occasions my work is less straightforward, making demands, even challenging the user to negotiate with an unexpected pot to do an ordinary job. I hope my pottery brings with its seriousness, some humour and sensual pleasure.
1958-63 NDD Pottery, Harrow School of Art
1994-2002 Professor of Ceramics UWE Bristol
1942 Born London
View the work of Walter Keeler
Exhibitions:
1989 Contemporary Applied Arts, London, solo
1991 Colours of Earth, The British Council, Touring India
1993 Leeds City Art Gallery, solo
1995 Rufford Craft Centre, solo with retrospective
1998 Galerie Marianne Heller, Heidelberg, solo
1999 Contemporary Applied Arts, London, solo
2000 Candover Gallery, Hampshire, solo
2001 Jerwood Shortlist Exhibition, Crafts Council Gallery, London
2002 Contemporary Ceramics, London, solo
2004-2006 Solo exhibition, with retrospective and book, touring UK, Leicester City Gallery & The Gallery Ruthin Craft Centre collaboration.
2004 National Eisteddfod, exhibition and Gold Medal winner, Newport
2005 Functional Form Now, Galerie Besson, London
2005-2007 Table Manners, Crafts Council touring exhibiton
2006 To Hold, Farmleigh Gallery, Dublin (catalogue)
2006 Pots for Flowers, solo, Gallery Nine, Bath
2007 Aberystwyth Arts Centre, solo
2007 Welsh Artist of the Year, presentation St David's Hall, Cardiff
2007 Candover Gallery, Alresford, Hants. Solo
2008 Arts Council of Wales, Creative Wales Major Award, to enable time for creative development.
2008 Walter Keeler, An Artist's Selection, Glyn Vivian Art Gallery, Swansea.
2008 Gallery at Bevere, Worcester, Walter Keeler & Takashi Yasuda, ceramics.
2009 Age of Experience, The Ruthin Craft Centre Galleries (catalogue)
2009 Welsh Table, The Ruthin Craft Centre Galleries (catalogue)
Public collections:
Victoria & Albert Museum
The Fitzwilliam Museum
The Crafts Council
The National Museum of Wales
Stoke-on-Trent City Museum
MIMA (Middlesbrough Institute of Modern Art)
American Craft Museum, New York
Los Angeles Museum of Art
Museum of Modern Art, Tokyo
National Museum of Sweden,
Sévre Museum of Ceramics, France
Musée Ariana, Geneva
The Museum of Fine Arts, Houston, USA
Publications:
A Guide to Collecting Studio Pottery by Alistair Hawtin, A&C Black, 2008
British Studio Ceramics by Paul Rice, Corwood Press, 2002
Ceramics for the Home by Annabel Freyberg, Laurence King Publishing, 1999
Ceramics, Design Source Book by Edmund De Waal, New Holland 1999
Color and Fire Defining Moments in Studio Ceramics, 1959-2000 by Jo Lauria, Los Angeles County Museum, 2000
Contemporary Ceramics by Emmanuel Cooper, Thames & Hudson, 2009
Modern British Potter by David Whiting, A&C Black, 2009
Salt-Glaze Ceramics An International Perspective by Janet Mansfield, A&C Black, 1992
Studio Pottery in Great Britain 1900-2005 by Jeffrey Jones, A&C Black, 2007
The Teapot Book by Steve Woodhead, A&C Black, 2005
The New Ceramics Trends + Traditions by Peter Dormer, Thames & Hudson, 1988
To Hold by Peter Ting, Brantwood Publishing, 2006
Walter Keeler by Emmanuel Cooper & Amanda Fielding, The Gallery Ruthin Craft Centre & The City Gallery Museum, 2004
View the work of Walter Keeler