Contemporary Studio Pottery by Dan Kelly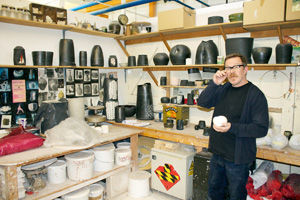 Dan Kelly a well established potter, has produced a range of stoneware Tea Bowls especially for MIAR Ceramics & Arts. The Tea Bowl is a rare form for Dan to make and lies somewhere between his sculptural work and domestic ware. The glaze and decoration of the bowls is typical of his larger work.
Two very nice recently fired white porcelain vessels will also be listed.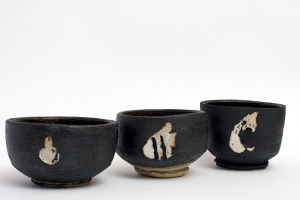 Dan is a quiet, extremely polite and affable potter. A student of Camberwell, one of his main influences was his teacher Colin Pearson.
Dan does not produce a lot of individual work, perhaps 150 pieces per year excluding his domestic range and likes to produce work in batches
Work in porcelain only forms a small percentage of his output and has a higher failure rate. His sculptural work oftentimes functional is influenced by the cityscape as well as the human form. Dan frequently scores, strikes or otherwise marks his work and will often use a white slip over his black glaze to add decoration. Torn edges as well as smooth details to rims can also add a sensual touch to the work.