MIAR Arts welcomes Penny Fowler
As a London based potter Penny's work reflects 21st century living and the city. It is characterised by clean, precise lines drawn with a strong palette.
Her vessels are layered and carved with contrasting coloured clays in abstract designs. The decoration often flowing into the form.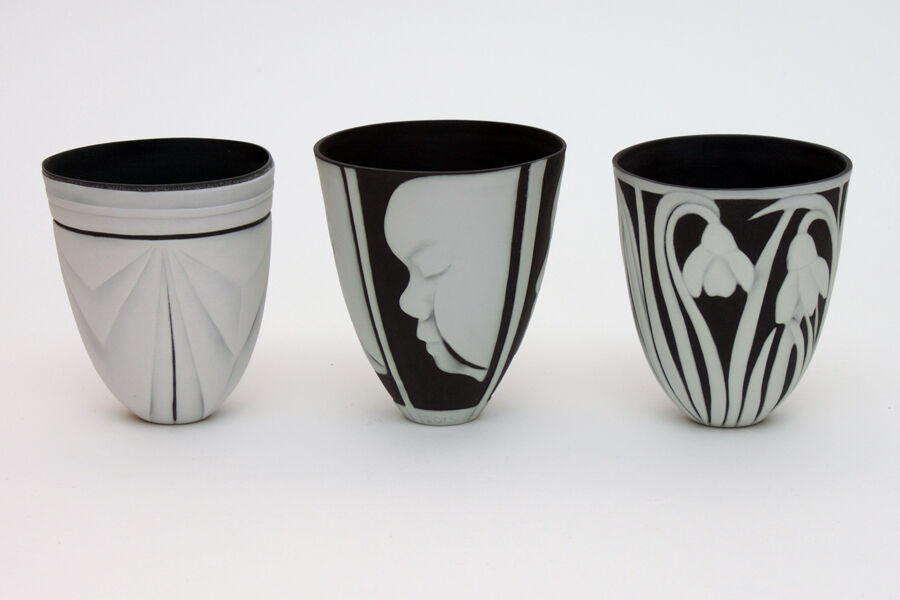 "I am excited by the challenge of pushing the clay to its physical limits by making ever thinner and finer forms, this reinforces its fragile yet uncompromising appearance. Each piece is considered individually and emerges as a unique piece of work.
My primary interest is to explore the subtlety of the simple hollow form, in which with the exception of my lamps, the function is secondary to the form.
I enjoy the translucency and whiteness of Bone - China clay which I use for some forms and my lampshades, playing with different depths of translucency , opacity, light and shade.
Inspiration comes from many sources I am always sketching and collecting images and objects. Sources include architectural features in the urban landscape and life drawing. I visit museums and have been influenced by the 3D effects of relief carvings of peoples like the Assyrians.
My work arises from abstracting, developing and combining different aspects of the natural and man made world."
Below: Porcelain Vessels by Penny