Sculptural Raku by Elizabeth Raeburn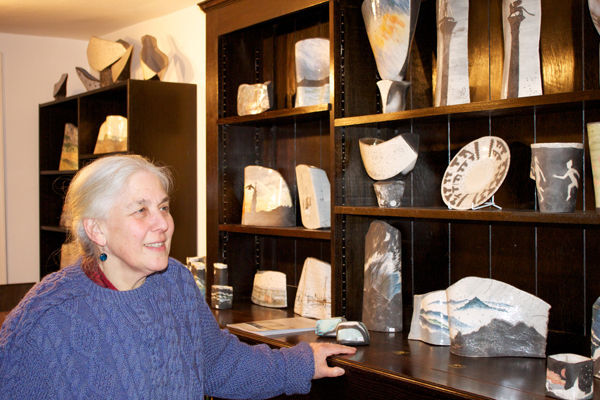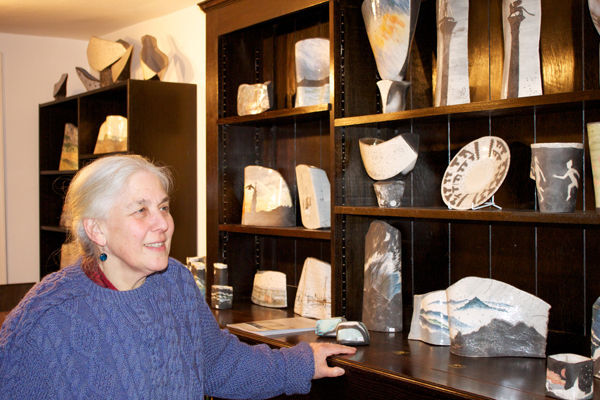 Elizabeth Raeburn is a ceramicist with quite a reputation.
Her work can be found in a number of museums in the UK and abroad. These include the Victoria & Albert Museum, Boijmans Van Beuningen Museum in Rotterdam, SAF's Kunstforening and the Handelsbanken Kunstforening Museums in Stockholm. Her work has also been shown in a number of prestigious galleries.
As a person she is quietly spoken and approachable.
She lives in the country with her partner, the potter, Rodney Lawrence.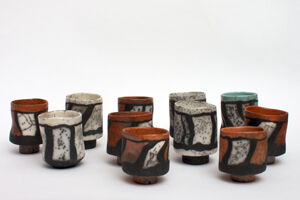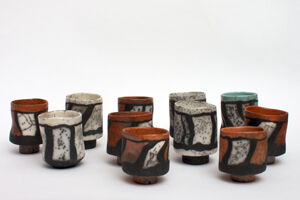 Elizabeth's pottery making is a slow careful process, she constructs and builds the vessels rather than throwing them. She only sells an item if she deems it to be in perfect condition and as a result her production is not prolific.
Her cups and small bottle forms are freely constructed and often sit at wonderfully jaunty angles.
It takes Elizabeth three to four days to produce 8 cups. The process involves rolling out the clay, biscuit firing, glazing, decorating and then the final firing.
Decoration is accomplished with the use of oxides in the clay itself, or the pieces are painted with slips. Some areas are waxed (resulting in the blackened clay) others covered in wax resist slip or glaze to achieve different surfaces.
Two base slips are used, white and garden (iron bearing) clay. Added to these are varying amounts and combinations of oxides, mainly of copper, cobalt and manganese.
The clay from her garden produces an orange glaze.
Firing is in an electric kiln. Sawdust, wood-shavings, shredded paper, grass or leaves may be used for post firing reduction. Occasionally Elizabeth will fire in a reduction atmosphere in a gas kiln, which dramatically alters the glaze effects.